12-Inch Inlet Line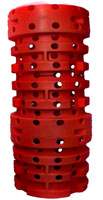 HBI-1210
This section contains 1″ holes and is used in standard conditions with 12″ tile where a 12″ x 1″ flow rate is needed.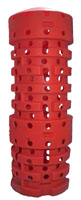 HBI-12SL
This is a 12″ x 1″ holed inlet with 1″ x 4″ slots. It is used to provide more flow than a standard 12″ x 1″ holed section.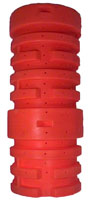 HBI-12516
This is a 12″ x 5/16″ holed orange section that is used underground from the tee as a riser extension. It can be cut at different locations (as marked on the section) to adjust the height.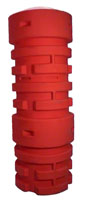 HBI-12BL
This is a blank orange section. It is used for offsetting the inlet from the main line. It can also be used in place of HBI-12516 where no small holes are wanted below ground.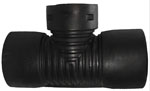 HBI-12BT
This is a blind tee that connects to 12″ corrugated or dual wall tile. The bell of a 12″ inlet tee fits over the outside of SDR.21 and SDR.26 gasketed bell ends.
Every Hickenbottom® Inlet is made of high-density polyethylene.
All Hickenbottom® parts, tees, offsets, risers, and inlets snap together for easy installation. Risers and inlets can be cut to desired lengths.
Markings on Hickenbottom® Inlets allow for easy height adjustment. Find the marking for the desired height and simply cut on the line.
Hickenbottom® Inlets are lightweight and simple. There is no need to hoist in concrete catch basins and no need to weld aluminum or steel pipe inlets.
Hickenbottom® Inlets are durable, easy to see, and easily maintained.
Check out Hickenbottom® adapters to increase or reduce the intake of the inlet off of the inlet's tee. Contact your local NRCS office to properly size restrictors for your project.
A special inner riser may be inserted to maintain ponding at a certain level to improve water infiltration in semi-arid regions.
Hickenbottom® Inlets are government approved. There are authorized distributors in the U.S. and Canada that have inlets in stock for fast delivery to contractors.
General Information for Installation Practices
Inlets
Installation for all Hickenbottom® Inlets should be in accordance with specifications for corrugated P.E. piping, such as ASTM F-405 and AASHTO highway specifications M-252. These can be found in the Soil Conservation Service Engineering Field Manual for Conservation Practices in Book 2 of 2, Section 8-82 and 8-83.
When back-filling inlets at shallow depths (less than 24 inches), it is recommended that one bed the tee and underground portion of the inlet with 1/2 to 1 1/2 inches of stone aggregate (ie: limey chips). In normal conditions concerning depths less than 24 inches (up to 72 inches), the spoil from the trench may be used for bedding if the size of the spoil material is less than 2 inches in diameter.
In conditions of 72 inches or deeper, one should surround the vertical portion of the inlet with a circumference of approximately 12 inches of the aforementioned aggregate to the surface.
To keep the vertical portion of the inlet from tipping over in the back-filling process, fill around the inlet in a mounding fashion then taper the slope down and away from the inlet to the bottom of the trench.
Make sure that all Hickenbottom® sections are snapped together before backfilling.
Further questions concerning inlet installation may be directed to the general office at 1-800-443-7879.